Abdominal Adhesion Pain Relief
Options To Treat And Control Your Pain
The options for abdominal adhesion pain relief include an adhesion surgery or adhesiolysis (breaking of the adhesions), use of chronic pain medications and CBT (cognitive behavioral therapy). If you suffer from chronic abdominal pain from adhesions or scars, discuss these options with your healthcare provider to see which could be best for you. 

What is Abdominal Adhesion, and Who Gets It?
An abdominal adhesion is a band of scar tissue that forms inside the abdomen as part of the normal healing process after surgery, infection, bleeding, or endometriosis involving the abdominal or pelvic cavity. 
You can think of an adhesion as you would scar tissue that remains on the skin after a wound heals. 

The difference is that an abdominal adhesion tends to form into cord-like structures that can wrap around bowels or other abdominal organs, causing them to stick together, or stick to the abdominal wall itself.
When this happens, an adhesion can cause complications such as:
Chronic abdominal pain

Pain during sex

Intestinal or bowel obstruction

Inability of a woman to conceive (fertility problems)

Bloating 

Difficulty passing urine

Pain when passing feces. 
Abdominal adhesion pain could be so debilitating. 
How Common is Abdominal Adhesion?

Abdominal adhesion is indeed so common that it affects about 93% of patients who undergo some form of abdominal surgery, affecting 1 in 10 patients who have never had any surgery or abdominal procedure.
Abdominal adhesion is more common in patients who have had appendectomy, bowel surgery , hysterectomy or cesarean section.
Adhesion formation following surgery is also referred to as postoperative peritoneal adhesions (PPAs) or post-surgical intra-abdominal adhesions .
It is the most common cause of bowel obstruction in the  developed world. 
Every abdominal or pelvic surgery carries a 90 to 100% risk of adhesion occurring and it is increasingly necessary for doctors to warn patients of this risk and the subsequent complications of developing adhesions before any such surgery is undertaken. Let's examine a few conditions and procedures that are more associated with the development of adhesion. 
Causes of Abdominal Adhesions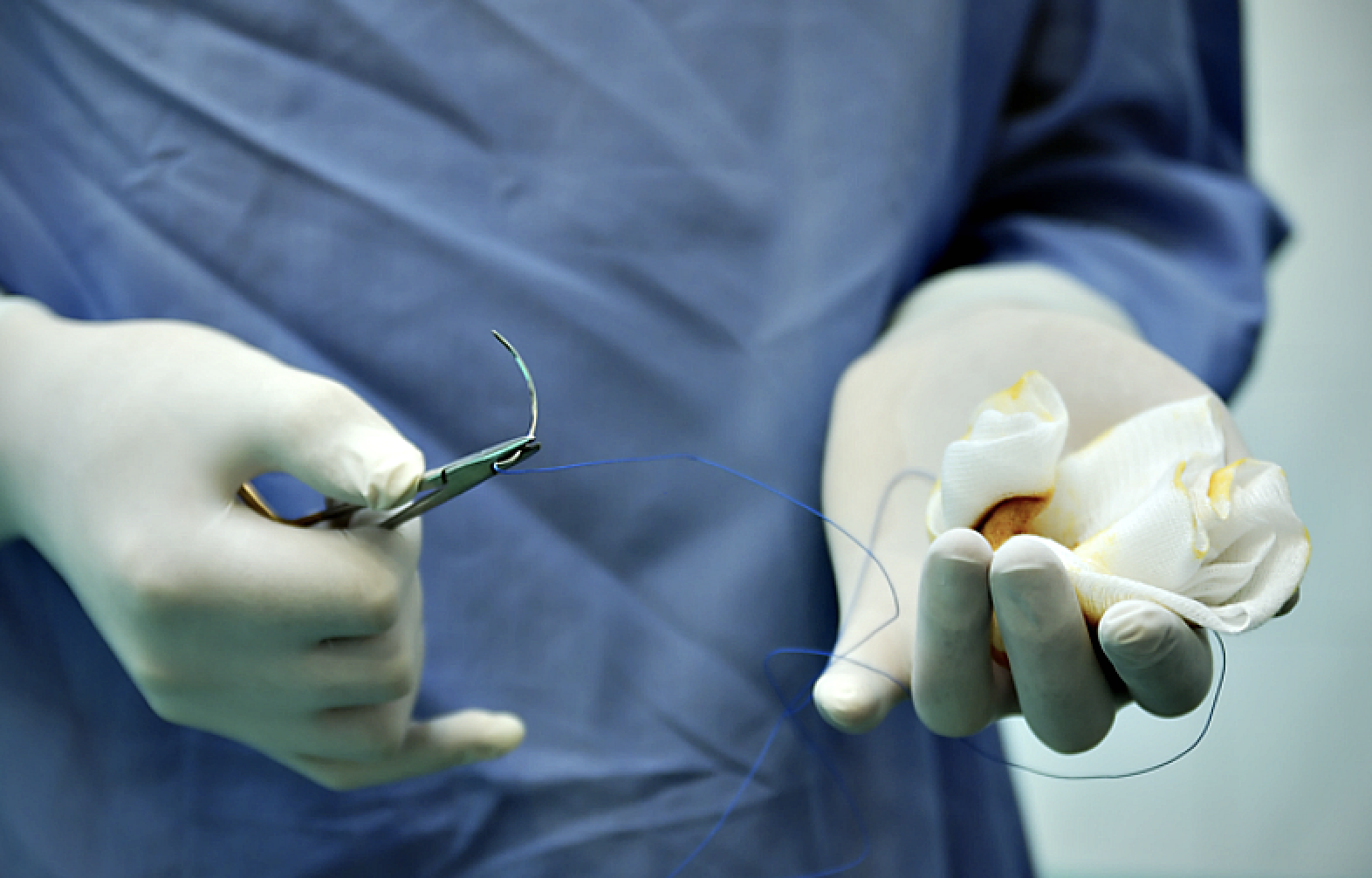 Surgical procedures that cause abdominal adhesion.
An abdominal adhesion is usually the result of any of the following:
Abdominal surgery - any surgical operation that involves getting inside the abdomen

Infection 

Bleed into the abdominal cavity

endometriosis 
Radiation treatment involving the abdomen.
In rare cases, abdominal adhesions can be congenital (present at birth) or occur as a result of a non-invasive procedure such as radiotherapy.
The most common specific conditions that leads to abdominal adhesions include:
Appendicitis, especially if your appendix ruptured or if there was pus in the abdominal cavity during the operation
Hysterectomy
Cesarean Section

Cholecystectomy (removal of the gallbladder)
Open kidney or bowel operation

Miscarriage or abortion with perforation of your womb during the cleaning process
Peritonitis
Salpingitis
Pelvic Inflammatory Disease (commonly caused by chlamydia, gonorrhoea and other STI)
Ectopic pregnancy repair
Radiotherapy
The risk of adhesion is higher for open abdominal or pelvic surgery than it is for laparoscopic surgery.
If you have had any of the above listed procedure and suffer with chronic abdominal or pelvic pain, speak with your healthcare provider about the possibility of abdominal adhesion as the cause of your pain. 
Symptoms of Abdominal Adhesion

It is possible to have abdominal adhesions and have no symptoms at all.
In fact, only about one-third of people with adhesion eventually develop symptoms. While pelvic adhesions form 4 to 6 weeks after abdominal trauma or surgery, it can take several months to years before symptoms manifest.
Symptoms of pelvic adhesions may include:
Abdominal Pain
Abdominal pain is the most common symptom of pelvic adhesion.
In a recent study, abdominal or pelvic adhesion were found at laparoscopy in more than 25% of women suffering from chronic pelvic pain. Only 10% of women without chronic abdominal or pelvic pain were found to have abdominal adhesion.
The pain in the abdomen occurs because over time, adhesion bands can develop their own nerve fibres and blood vessels, which cause pain when these nerves are stretched by bowel movements or other factors inside the abdominal cavity. This pain can be sharp and intermittent or dull and more persistent.
Bowel or Intestinal Obstruction
The October 2012 issue of Frontiers in Medicine, reports that adhesive small bowel obstruction is a frequent cause of hospital admission. More recent studies show that postoperative abdominal adhesion is the most common cause of bowel obstruction in the Western world.
Adhesions can spread in a spider web-like formation inside the abdominal cavity and restrict the normal movement of the bowels or intestines, trapping and entangling loops of bowel and causing obstruction. 
Symptoms of bowel obstruction include colicky abdominal pain, feeling bloated, nausea, vomiting and constipation or inability to empty your bowels. Occasionally, the bowel is able to "free" itself from the grip of adhesions and symptoms may resolve on their own.
Infertility
Infertility can be the result of abdominal adhesion in those who have had a major abdominal operation, who suffer with endometriosis, or who are known to have had an abdominal or pelvic infection like PID, salpingitis, or peritonitis. The bands form by abdominal adhesions an affect the architecture of the abdomen, interfering with the release of eggs from the ovary, or the migration of a fertilized ovum into the fallopian tubes and womb (uterine adhesions).
Pain During Intercourse
Pain during intercourse, also called dyspareunia is another common symptoms resulting from  abdominal adhesions. 
Abdominal Adhesion Pain Relief Options That Work
There is no definite cure for adhesion.
The best available abdominal adhesion pain relief options that work are:
Use of painkillers or pain medications

Abdominal Physiotherapy And

Acupuncture

 

Cognitive Behaviour Therapy (CBT)

Adhesiolysis or adhesion breakdown surgery. 
Pain Medications
Because adhesions are multiple scar tissues within the abdomen or pelvis that pull one surface or organ to another organ or surface, it is difficult to treat. 
If your doctor suspects that the cause of your abdominal pain is adhesion, once they have checked that you do not have bowel obstruction or blockage, you are likely to be given some pain killers. 
Common painkillers used for adhesion include:
Tylenol or Paracetamol
Tylenol 3 or Co-Codamol
tramadol
gabapentin
Lyrica (Pregabalin)
Duloxetine
Opioids - such as morphine sulfate, oxycodone, hydromorphone.
None of these pain medications would provide lasting abdominal adhesion pain relief. 
If however any of these can help control your pain at a low dose, it might be best to delay proceeding to seeking surgery in treating your adhesion. You will see why below. 
Physiotherapy And Acupuncture 
Although not widely available, some experienced physiotherapists are able to provide abdominal adhesion pain relief by focusing physiotherapy aimed at gradually stretching the adhesions and weakening the pain-causing grip of adhesion. 
Experienced acupuncturists are also able to provide some abdominal adhesion pain relief. Speak to providers in your city to see if this is what they offer. 
Cognitive Behavioral Therapy (CBT)
CBT is a type of "talking therapy" to help you appreciate how your thoughts affect your feelings and such feelings lead to symptoms, and how controlling your thoughts and feelings can help reduce your pain feedback.
It is aimed at training you to lead an activity-centered life rather than a pain-centered life. 
Abdominal adhesion pain could be terrible and chronic. It literally steals the lives of thousands of patients around the world. Because there is no definite treatment for this pain, being able to refocus your mind, realizing that you may spend the rest of your life with chronic abdominal pain, working to live a "normal life" in spite of the pain is the goal here and it is possible. 
Adhesiolysis - Abdominal Adhesion Pain Relief Surgery
Adhesiolysis is done by laparoscopic surgery to break and remove the adhesions.
Although many patients report significant improvement in their overall health, as well as a very low incidence of recurrence, it is not a guaranteed treatment for abdominal adhesion pain. 
You should only consider it if all other options have failed.
The following are conditions in patients that would make them more likely to qualify for surgery for removal of postoperative adhesions:

Chronic abdominal or pelvic pain that is affecting their quality of life.  
Women with infertility, where adhesion is suspected as a possible cause. 
Patients with intestinal obstruction or blocked bowel.
Does any of the above describe you? If so, you can look for doctors who specialize in the removal of postoperative intra-abdominal adhesions for a consultation. 
Like any other surgical operation, there are risks with adhesiolysis. The common risk with abdominal adhesion pain relief surgery is that of new adhesion forming a few years after adhesiolysis. 
It is possible for patients who have  adhesiolysis  to need repeated surgery for adhesion in the future - sometimes as often as every two years. This occurs in more than  2 in 10 cases. Some  adhesiolysis  surgeons will opt to delay the surgery 12 to 24 hours to inject the abdominal cavity with liquids containing carboxymethylcellulose (CMC), hyaluronic acid, or icodextrin ahead of surgery in hopes of reducing the chances of the abdominal adhesions forming after the corrective surgeries.
Alternative, NonSurgical Treatments and Prevention Of Abdominal Adhesion

A recent study finds that taking a fish oil supplement may be an effective adjuvant therapy to reduce the development of postsurgical adhesions related to endometriosis.
This is according to Fertility and sterility , (October 25, 2012, 1556-5653).
Unless patients have congenital adhesions, the formation of adhesions can be controlled, or minimized to some extent, if patients are willing to take certain measures before, during, and after a surgical procedure.
Preventative measures you and your surgeon can take to reduce your chances of having adhesion include:
Patients who are preparing for abdominal surgery should discuss these measures with their surgeon. 
References:

Shichao Jiang,  Wei Wang,  Hede Yan, and Cunyi Fan.  Prevention of Intra-Abdominal Adhesion by Bi-Layer Electrospun Membrane. Int J Mol Sci. 2013 June; 14(6): 11861–11870. Published online 2013 June 4. doi:  10.3390/ijms140611861
Herington JL,Glore DR,Lucas JA,Osteen KG,Bruner-Tran KL. Dietary fish oil supplementation inhibits formation of endometriosis-associated adhesions in a chimeric mouse model. Fertility and sterility, 25 October 2012, 1556-5653
Erhan Aysan et al. New and Simple Approach for Preventing Postoperative Peritoneal Adhesions: Do not Touch the Peritoneum without Viscous Liquid—A Multivariate Analysis. Obstet Gynecol Int. 2012; 2012: 368924. Published online 2012 January 26. doi: 10.1155/2012/368924
Liakakos T et al. Peritoneal adhesions: etiology, pathophysiology, and clinical significance. Recent advances in prevention and management. Dig Surg. 2001; 18(4):260-73.

Pelvic Pain: Diagnosis and Management. By Fred M. Howard, Paul Perry, James Carter, Ahmed M. El-Minawi (2000).

Holmdahl L, et al. Adhesions: pathogenesis and prevention-panel discussion and summary.Eur J Surg Suppl. 1997 ;(577):56-62.
Risberg B. Adhesions: preventive strategies.Eur J Surg Suppl. 1997 ;(577):32-9.
Matter I, et al . (1997) Does index operation influence the course and outcome of adhesive intestinal obstruction? Eur J Surg 163 (10): 767–72
Monk BJ et al. Adhesions after extensive gynecologic surgery: clinical significance, etiology, and prevention. Am J Obstet Gynecol. 1994 May; 170 (5 Pt 1): 1396-403.
Last updated on the 28th of December 2019. 
Abdominal Adhesions - Share Your Experience
Do you have a story about abdominal adhesions? Any question or comment? Share it!

Please feel free to contribute your thoughts here if you read postings by others, and you want to say something.

All postings are read by the abdominal pain team, and we shall respond to some queries directly on this page too.


What Other Visitors Have Said RegardingTheir Experience With Abdominal Adhesion
Click below to see contributions from other visitors to this page...