Oesophagogastroduodenoscopy
OGD or EGD

oesophagogastroduodenoscopy (esophagogastroduodenoscopy in North America), also referred to as upper GI endoscopy, is a test where a hollow tube, the size of a pen, fitted with a light source and small camera, is put through your mouth or nose to take a look at the oesophagus (gullet), stomach and duodenum. It is used to directly visualize the upper part of our digestive system to help investigate the cause of certain symptoms discussed below. It is also used to get tissue sample for further testing.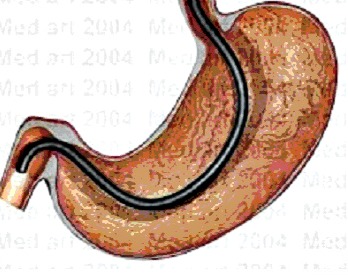 Are you booked to have an OGD (EGD in North America)? Your doctor probably ordered the test because of some symptoms you are having which he cannot explain, or because of some things you have told him and findings on your physical examination.
OGD is not a painful test to do.
We would explain what OGD is, how it is done, why it is done, what you need to do or how to prepare for a test, possible complications of the procedure and would love to hear your comment if you have had this test done before. We also would be more than happy to help explain the result of your OGD to you if you want further clarification of what your result means.

What Is Oesophagogastroduodenoscopy or OGD?

What is OGD? It stands for Oesophago-Gastro-Duodenoscopy. In North America it is called Esophago-Gastro-Duodenoscopy or EGD.

As mentioned above, during OGD, your doctor advances a hollow flexible tube called an endoscope, through your mouth or nose, through the pharynx, esophagus, stomach, and duodenum.
The endoscope is usually the length to fit down into the first part of the small intestine, called the duodenum. There may be a fiberoptic camera or a video chip on the end of the tube so that the doctor can take a look on a video monitor as he gently moves the EGD through the digestive system. At different points along the way, your doctor will stop to take some still pictures if he sees anything unusual.
He or she can also take a small nick or sample from the inside of your gullet or stomach or duodenum if it is though that a suspicious swelling or lump is seen inside you during the testing.

Why Did My Doctor Order An OGD?
Common reasons for your doctor to order an OGD or EGD might include:
Indigestion symptoms not responding to medications initially

Vomiting frequently
To investigate an unexplained weight loss
To check the cause of low iron in your blood if other tests fails to show it up.

Pain in the chest which is not from your heart
To check for cancer if you have risk factors like indigestion and weight loss

Biopsy specimens if you are not absorbing or digesting your food correctly
To check the source of blood in your stool
If there is a suspicion of a tumor in the gullet, stomach or duodenum

To check for specific types of infections like for H.pylori

Removing a foreign body that you have swallowed or that is stuck in the throat

Controlling bleeding from the upper digestive tract
Opening up a stricture, or narrowing, of the GI tract, either by stretching it or putting a tube through it to keep it open
Heartburn
Barret Oesophagus investigation

Difficulty swallowing
To remove tumors
To place a feeding tube in your stomach, if you cannot swallow food.

What Should I Expect During An OGD (EGD)?
The following are what to expect when during an OGD:
You will be asked to undress, and put on a hospital gown. Then you will go into the examining room where the EGD is performed.

You will have to lie on the left side during this exam, on the examining table. Some doctors like to have you sedated, to make you more comfortable.

Your doctor will numb up your throat or nose with a numbing spray or lubricant. Sedatives will help you keep still, and will allow your doctor to take his or her time to take a good look without having you feel too uncomfortable.

If you receive sedation, you may be placed on a cardiac monitor through the length of the EGD, and you will also probably be placed on a pulse oximeter, to check the level of oxygen in your blood.

Your heart rate and blood pressure will be monitored, because it is important that the medications do not affect any of these normal functions.

The sedative will make you drowsy, and you will not remember much about the test afterwards.

Most specialists recommend a prophylactic antibiotic to prevent the introduction of bacteria from your mouth from traveling into your lungs and throughout your other organs.
The doctor will be a specialist in diseases of the digestive tract, and will have special training in endoscopy.

For this test, you will asked to lie on you left side on the examining table. The doctor will numb your throat with a topical numbing spray for comfort.
A mouth guard, called a bite block, will be paced in the mouth to avoid damage to the endoscope if you would happen to bit down upon it during the procedure. This should also protect your teeth. If you have dentures, they will be removed.
The doctor will watch carefully as he passes the endoscopy through the pharynx, the entrance to the esophagus, at the back of your mouth. He will be watching the monitor as he moves the esophagus very carefully through the esophagus and stomach into the duodenum, the beginning of the small intestine.
Air will be introduced through the endoscope to open the lumen, or the interior, of the organs, to provide a better view. There is a special tube in the endoscope will is only for air, and the doctor will be careful that no liquid or food particles return through that tube, because you could aspirate, or inhale, the liquid or food through into your lungs, which could cause irritation (pneumonitis) or pneumonia.
The entire procedure will be seen on a video monitor, watched by your doctor, to avoid puncture of your organs and to allow your doctor to see all of the inside of the organs and examine them for abnormalities. He will stop the camera and take some still pictures of different parts of the exam, both to make them a part of your medical record, and to show them to you after the procedure.

During the procedure, the doctor can remove growths through the endoscope, using special forceps, or he can get biopsy samples of unusual tissues, to examine under a microscope to look at the cells, and should be able to tell if they are unusual, cancerous, pre-cancerous, or normal.

There is another device that can be used through the endoscope, called a HALO 90, which can ablate, or destroy, precancerous tissue.
After the procedure, you will go to the recovery room where a nurse will monitor you for about an hour.

When you are completely alert and awake, you can return home with the friend or family member who will be there to drive you. The doctor will have come into the recovery room to show you pictures and explain what he found.

You will probably not remember this very well afterwards, so you will have a follow up visit with your generalist, who will receive the results of the exam and will explain the findings and any follow-up treatment or further imaging studies that you may have to have.
After your EGD (OGD) you will be told to watch for fever, pain in the abdomen, or bleeding from the digestive tract. You can slowly resume a normal diet.
How Should I Prepare For An OGD?

Ideally, you would receive an instruction leaflet from your doctor to let you know what you must do before an OGD or oesophagogastroduodenoscopy.  They include:
Stop taking any PPI medication like Omeprazole or Lansoprazole or Pantoprazole you may be taking, at least two weeks before the date of your procedure. This is to prevent the medication to heal or mask a possible tumour and thus mis-diagnosed.

Have nothing to eat for about six hours before the time for your test. You can drink water only up to 2 hours before the test. Because local policies may be different, ensure that you stick to the advice mentioned in the letter they sent to you.

The most important thing you can do is to tell your doctor if you are taking blood thinners, including aspirin and warfarin.

If you are medically unstable, you will not be able to have the procedure.
If you have a history of outpouchings in your pharynx, called diverticula, you may not be able to have the procedure.

Tell you doctor if you have had surgery on your head or neck, because if it was recent, or if it resulted in deformities of your organs, you may not be able to have the procedure.
If you are only having the procedure to make a diagnosis, the risk of bleeding on anticoagulant medication is very low.
But, if your doctor intends to remove polyps, then your medication will have to be adjusted, and only your doctor should change these medications around.
There is the chance, if you are on blood-thinning medications, that a collection of blood may form in a pouch behind your pharynx, which could block your airway. This is called a retropharyngeal hematoma.
If you doctor is going to have to dilate the esophagus, or stretch the sphincter of the esophagus, which keeps acid from washing up into your esophagus from your stomach, you may also bleed on anticoagulants.
Taking samples of tissue, or destroying abnormal tissues, can also require an adjustment in blood thinning medications.

Are There Risks To Having An OGD?

Yes. There are some possible complications that can occur with oesophagogastroduodenoscopy or OGD. They happen about one time in every 1000 procedures. They can include infection,
Bleeding, or perforation of the GI tract, which will probably mean a surgical repair of the perforation.

Problems with the lung and heart occur in about 50% of complications, and they are usually the result of the heavy sedative.

There are between 0.5-3 deaths that occur as a result of complications, especially in someone with very complex medical history. Your doctor will help you determine if the potential benefits are greater than the risks involved.

Oesophagogastroduodenoscopy: Results Interpretation Help And Comments.
Do you have a great story, comment or experience with oesophagogastroduodenoscopy or OGD? Or did you get an OGD result from your doctor and are looking to get help with further explanations or interpretation of what the result means?

We would love to hear your comments and queries on anything OGD or EGD here. Share it.
What Other Visitors Have Said
Click below to see contributions from other visitors to this page...

Abdominal pains for over a year Not rated yet
Abdominal pains for over a year! No diagnosis. I first started experiencing this pain over a year ago. It is under my ribcage in the center …