Laparoscopy (Keyhole Surgery)

Preparation, Procedure, Complications And Recovery
Laparoscopy is a process where a thin tube with a light source and camera attached to the end, is used to take a look at the organs inside the abdominal cavity and pelvis through a tiny cut on the skin. It can be done under general or local anesthetics. It is used for diagnosis, as well as for treatment purposes.
Also called laparoscopic surgery, minimally invasive surgery, or keyhole surgery, a laparoscopy is a surgical procedure.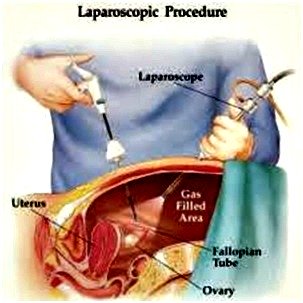 The surgeon uses a lighted fiberoptic tube called a laparoscope and inserts it through a small incision in the abdomen to examine the organs in the abdomen or in the female pelvis.
In the pelvis, the organs include the uterus, fallopian tubes, and ovaries.
The organs in the upper part of the abdomen include the stomach, liver, gallbladder, pancreas, spleen, and intestines. Through the laparoscopic tube, your surgeon is able to take biopsies from tumors, to tie your fallopian tubes (tubal ligation), or to fix hernias.
Small cuts through the skin of your abdomen about a centimeter or two are used. This helps prevent unnecessary big cuts, and quicker recovery.

  Why Did My Doctor Order A Laparoscopy?
A laparoscopy can often be done instead of surgery with a large incision. But, for diagnosis and small procedures, there are many reasons your doctor may have ordered you a laparoscopy. These reasons include:
To seek help for unexplainable abdominal pain

To see if you have an abscess or pelvic inflammatory disease, an infection from the genital tract that may have spread up into your uterus.
To diagnose reasons for infertility. Some reasons for infertility include poly cystic ovarian syndrome (PCOS) or adhesions, fibroid, or infection. Laparoscopy is not the first test done to look for causes of infertility.
To take a biopsy sample of tissues that are abnormal, and send them off for analysis.
Tubal ligation
Hiatal hernia or inguinal hernias can be repaired using this procedure.
To find a cause of pelvic pain that cannot be explained.
To exclude endometriosis

To check for abnormal growths like tumors from the abdomen and pelvis
To possibly remove those growths
Laparoscopic surgery or keyhole surgery is also used for:
Gallbladder surgery (cholecystectomy)
Removal of part of the liver (hepatectomy)
Removal of the appendix (laparoscopic appendectomy)
Partial removal of bowels (bowel resection)
Removal of the spleen or part of it (splenectomy)

Removal of the womb or uterus (hysterectomy)
Removal of the ovary (ovarian cystectomy)

How Should I Prepare For Laparoscopy?
What preparations to make before having a laparoscopy? .
You will have to sign a consent form stating that you understand the risks and benefits of the procedure.
What Should I Expect When I Have A Laparoscopic Procedure?
Laparoscopy or minimally invasive surgery is now a very routine procedure with excellent outcomes. It is procedure that is now done in the operating room or theater under sterile conditions, usually under general anesthesia, which means you will be put to sleep. Sometimes, you may be able to have spinal anesthesia.
The following are what you should expect to happen before, during and after your laparoscopic procedure:
An hour before surgery, the doctor will come to talk to you. They will explain everything that is going to happen, and check your details again, why you are having the procedure, medications you are on and if you have any allergies. 

Your nurse will clean your arm and start an intravenous line (IV) and she will probably inject some medicine to help you relax. You will have to empty your bladder, and the nurse may place a urinary catheter in the urethra to drain your bladder during the procedure.
When you are asleep, the anesthesiologist will put a tube in your throat, down your airway, which will be connected to a machine that will breath for you. Some of your pelvic hair may be shaved, and your abdomen and pelvic area will be washed with a special antiseptic soap. If the laparoscopy is going to be performed in the upper part of the abdomen, that part of your abdomen will be cleaned the same way.
The doctor will make a small incision in the area of interest, and if he is planning on using other tools, more than one incision will be made. A hollow needle is inserted into the first incision and a gas like nitrous oxide or carbon dioxide is used to inflate your abdomen, lifting the wall of the abdomen away from the organs, to give you doctor a good view.
A laparoscope is a thin tube with a light on it, and it is put through the incision to look at the organs. There may be other tool used to take biopsy samples, drain cysts or abscesses, or to fix damage. Sometimes, a laser is used during a laparoscopic procedure to help with surgery.
When all the tools are accounted for, the nurse will cover you up and take you to the recovery room, where you will probably sleep for several hours before the anesthesia wears off, and even then, you may still be tired.
Your throat may be sore, and a gargle with warm salt water can ease the irritation. You can also use throat lozenges.
When the anesthesia is completely worn out, you may have some pain or discomfort in your abdomen or pelvis, from the instruments moving your organs around.
You may experience bloating or bruising. Do not drink carbonated beverages for one or two days, and you will have less chance of bloating or vomiting. Your nurse will give you a sheet of instructions from your doctor.
What Are The Risks Of A Laparoscopy?
The risks or side effects of laparoscopy are very minimal compared with a open surgery. Because laparoscopic procedures are done so commonly now and under very strict conditions, the risks or complications are very rare and occur usually in about 2 out of very 100 surgery performed.  The following are the risks associated with minimally invasive or keyhole surgery:
Injury to bowels and other organs
Bleeding

Infection
Conversion to open surgery, if procedure difficult or something expected found inside the abdomen that requires conversion to open surgery.

Laparoscopic surgery is done in the obese and frail, who would normally be unable to undergo an open surgical operation, as well as in healthy individuals.

After Laparoscopy, What Can I Expect?
The following are things you most probably would expect to experience after a laparoscopic or minimally invasive surgery:
Soreness of your throat and maybe nausea. You may have more hoarseness in your voice.
You may have bloating.

Shoulder tip pain. The gas used to open your abdomen or pelvis away from your organs may leak into your skin or irritate your diaphragm. This might cause discomfort in your shoulder.

If you notice red and warm skin, or swelling, around the incision, or if you notice drainage or bleeding, call your doctor.

If you have fever or a very bad pain in the abdomen or pelvis, call your doctor right away. 

 If your doctor removed something like an organ or tissue, he will tell you after the laparoscopy, although it may take up to a week or two to get the analysis. He will call you and if there is anything abnormal found, you will probably go into his office to decide the next plan of action.
You should normally be off work for 2-4 weeks after a laparoscopy, depending on what exactly was done. Most people go back to work after two weeks.

Laparoscopy (Keyhole Surgery): Have your Say!
Do you have a great story, experience, comment or query about any thing laparoscopy or keyhole surgery? Share it! We would love to hear from you.
Help Keep This Site Going
Donate To Show Your Support