Here Are The Most Common Causes Of Abdominal Pain
The causes of abdominal pain (also referred to as belly or tummy pain) are many and can be difficult to identify. Here are common causes of abdominal pain and see if they relate to your symptoms! Have your say and leave us a comment or query on your experience with tummy pain here.

Abdominal (belly, tummy, stomach or bowel) pain refers to the feeling of any unpleasant or annoying sensation anywhere between the edge of your rib cage to the margins of your waist bone on the front or side .
The causes of abdominal or bowel pain ranges from common conditions like trapped wind, indigestion, anxiety, to appendicitis, or even more serious life threatening conditions like bowel cancer.
Constipation, trapped wind, indigestion, irritable bowel syndrome, urinary tract infection, menstrual pain, endometriosis and appendicitis and emotional distress are the most common causes of pain in the abdomen.
Often, episodes of pain in the abdomen resolves on its own without any serious repercussions. At other times, it is important to unravel the cause of an abdominal pain, as short delays in accurate diagnosis could leave unpleasant consequences.
The primary prerogative of a health care practitioner is therefore, to take seriously any complaint of abdominal pain lasting more than an hour, and to exclude any potentially dangerous cause of such pain that may in anyway pose threat to life.
This is done by way of taking a focused history to understand the pattern of the pain, detailed physical examination, and the conducting of ancillary tests and other investigations as may be necessary.
Once a potentially dangerous cause of pain in the abdomen has been excluded, most causes of abdominal pain would go away with time, and can be managed by treating associated symptoms.
Common Causes Of Abdominal Pain

So diverse could the cause of abdominal pain be that even very seasoned medical experts may not be able to tell the cause of pain in the tummy.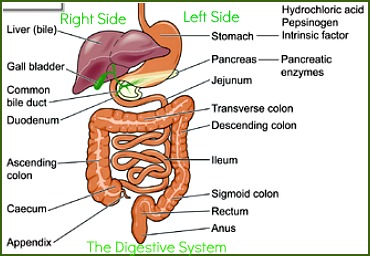 This complexity often arises because of the fact that unlike other parts of the body where you have a few things only that could go wrong, the abdomen is home to so many organs and structures, that problems in any one of such organs could cause pain and to pin point the origin is like looking for the proverbial needle in an hay sack.
Apart from the digestive system with all its organs, the abdomen also contains the kidneys, the adrenal glands, the spleen, bladder, ureters, urethra, ovaries, fallopian tubes, uterus (womb), prostate, and the overlying skin, muscles, nerves , blood vessels, lymph channels, and more.
Also, organs far removed from the abdomen that share the same nerve with structures in the abdomen could be diseased, causing the pain to be felt in the abdomen. So too are neighboring structures like the lower lungs, and hear frequent causes of abdominal pain when things go wrong in them.
To understand the cause of a tummy ache then, it is vital to try to narrow down the area of ​​the most pain in the abdomen, be familiar with organs and structures in that part of the abdomen, and with the knowledge of how the different organs that area work, as well as the character of the pain, and other associated symptoms, work out what might be causing the pain.
To make this process simple even for the non-medical person, let's take a look at the common causes of abdominal pain, looking at the different regions of the abdomen, as well as age groups and sex.

Causes of Right Upper Abdominal Pain
The common causes of pain in the right upper abdomen in all age groups and sex include:
Amoebic liver infection and cysts

Choleduchal cysts and other gall bladder problems

Fitz Hugh Curtis Syndrome (following gonorrhoea infection)

Hepatitis

Herpes zoster

Liver cancer

Fatty Liver Disease


Liver infection (parasites and cysts)

Myofascial Pain Syndrome

Paracetamol (acetaminophen) overdose

Pulled Muscle

Right Sided Pneumonia

Right Sided Pulmonary Embolism (blood clot in the right lung)

Right Sided Renal Stones (Kidney stones)

Tietze Syndrome
Do you have a right upper belly ache? For more detailed discussion on the various causes of pain in the right upper abdomen and how to identify the possible cause from the list above, see the section on right upper abdominal pain here .
Causes of Central Upper Abdominal Pain
Pain in the central upper abdomen is very common, and the usual suspects causing such pain include:
Acid Reflux (GERD or GORD)

Directing aortic aneurysm

discitis

Dyspepsia or Indigestion

Epigastric hernia

Gastritis or Alcoholic Gastritis


Heart attack

heart Burns

H pylori infection

Mallory Weisis Syndrome

Muscle strain following severe vomiting.

Pancreatic tumor


Side effect of Aspirin, Ibuprofen, Diclofenac, Erythromycin, or some blood pressure medications - calcium channel blockers

Spasm of the esophagus

Worms and Parasitic Infections

See here for more information on central upper abdominal (epigastric) pain
Causes of Left Upper Abdominal Pain
Left upper abdominal pain is perhaps not common as pain in other sides of the abdomen, depending on where you live. The common causes of pain in the left upper abdomen include:
Hepatitis (affecting the left lobe of the liver)

Lymphoma affecting the spleen (spleen pain)

Myofascial pain syndrome

Pancreatitis / Pancreatic cancer mainly affecting the left side of the pancreas

pneumonia

Pulmonary embolism

Splenic artery aneurysm

Spleenic enlargement (eg malaria spleen)

Splenic rupture




Tietze syndrome
See more information o n left upper abdominal pain here
Causes of Central Abdominal Pain
Pain around the belly button or umbilicus is referred to as central abdominal pain. Pain in this area can be caused by:
Adhesions




Aortic dissection

Appendicitis - Early stages especially in children (this then moves down to the right lower abdomen within a day or two)

Bowel Cancer

Bowel obstruction

Child abuse

Collagen vascular disease

Diabetic Ketoacidosis

discitis

Displaced IUD

Food intolerance

Gastroenteritis (food poisoning)
Causes of Right Lower Abdominal Pain
This is a very common site of abdominal pain. Causes include:
Acute

appendicitis and complications of appendicitis like appendiceal abscess, appendiceal mucocele

Benign Lymphoid Hyperplasia




Cecitis (inflammation of the caecum)




Caecal diverticulitis

Caecal tumors

Eosinophilic gastroenteritis

Ectopic Pregnancy

Fabry's disease

gastroenteritis

Hernia (obstructed or strangulated inguinal or femoral hernia)

Ileal Plasma Cytoma

Iliac artery aneurysm




Intestinal lymphoma

intussusception

Jejunoileitis

Loin Pain Haematuria Syndrome

Meckel's diverticulitis

Ovarian cyst

Ovarian tumors

Pseudomembranous enterocolitis

Radiation enteritis




salpingitis

Testicular torsion

Ureteric colic (kidney stone)

Urinary Infection (UTI)




Zollinger Ellison syndrome
Causes of Central Lower Abdominal Pain
Pain along the bikini line to the middle, just below the umbilicus is referred to as central lower abdominal pain, supra pubic pain or just as lower abdominal pain.
Causes of abdominal pain in this area are often more specific, and are common in women. Such causes include:
miscarriage




Onset or Labor



Placental Abruption


Urinary Retention

Urinary infection

prostatitis

Prostate cancer
Of these, urinary infection, constipation, cystitis , menstrual cramps , fibroid and endometriosis pain and irritable bowel syndrome are the more common causes of abdominal pain in this region.
Causes of Lower Left Abdominal Pain
This is another area of ​​the abdomen where pain is frequently localized. Causes of abdominal pain in this region include:
Bowel cancer

Crohn's disease


diverticulitis

Ectopic pregnancy

epididymitis

Hernia (obstructed or strangulated inguinal or femoral hernia)

Ileal Plasma Cytoma

Iliac artery aneurysm

Irritable bowel syndrome


Intestinal lymphoma

intussusception

Loin Pain Haematuria Syndrome.
The most common causes of abdominal pain in the left lower abdomen are irritable bowel syndrome, endometriosis, pelvic inflammatory disease, ovarian cyst problems, trapped wind, diverticular disease in the elderly, urinary infection, and mid cycle pain.
This list is by no means exhaustive. Other causes like intestinal worms, emotional problems and accidents would be mentioned in passing, and they should always be considered when trying to decipher the probable cause or causes of abdominal pain in any individual.
Last Updated: 28th September 2013

Are You Suffering With Pain In Your Abdomen? Share Your Experience Here!
Are you or your dear one suffering with pain in the abdomen? You can now share your experience here and get answers. Have you had an experience with abdominal pain in the past that you think others could learn from? Share it here! Just type in your story in the box below:
What Other Visitors Have Said
Click below to see contributions from other visitors to this page...

---
Useful Links
See related info and useful links from third party sources that could prove insightful.