Upper Right Abdominal Pain
Causes And Treatment Options
Let's Help You Work Out What Might Be Causing Your Upper Right Abdominal Pain

Common causes of upper right abdominal pain include conditions like gallstones and gallbladder disease, kidney stone, liver problems, stomach ulcer, pulled muscle and myofascial pain syndrome. See how to work out what might be causing your right side stomach pain or pain under your right rib cage and what to do for each case.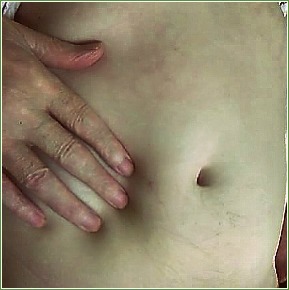 Do you have pain under your right rib cage or upper right abdomen? When exactly did it start? Did you wake up with the pain at night, or did it start within an hour after meal? Is the pain coming on and going away in waves at intervals? Does this pain seems to spread through the right side of your body to the back under your shoulder blade bone? Feeling sick and nauseated?
Pain in the right side of the upper stomach or abdomen is very common. It is also referred to as right upper quadrant pain. Like in other parts of the abdomen, the key to finding out what might be causing your pain lies in understanding and being familiar with the organs in this part of the body. Housed in this region of the body are:
The Liver

Gallbladder,

Upper part of the barge bowel,

Right kidney and kidney tubes or ureters,

Lower part of the right lungs from the back,

Right Adrenal gland

Muscles, bones, blood vessels, nerves and skin covering the region.

Any problem in these structures or organs lying in here or near by ones will cause upper right abdominal pain. So, how can we work out what is causing your right upper abdominal pain now? Let's go through the common causes of pain in this region and see if any of these sounds like what is happening to you.

Common Causes Of Right Upper Abdominal Pain

Common causes of pain in the right upper abdomen include conditions affecting any of the organs listed above that are housed in the right upper abdomen as well as some other organs in the chest.
We shall now list these common causes of pain under the right rib. They include:
The above listed conditions are those that commonly cause right side stomach pain or pain under right rib. There are other conditions like constipation, non alcoholic fatty liver disease, HELLP syndrome in pregnant women with pre-eclampsia, severe diabetic ketoacidosis, epiploic appendagitis, right pulmonary embolism or blood clot in the lower right lung, heart failure, cronh's disease, bowel cancer, and many others.
If you have a right side abdominal pain that is not going away after an hour, it is recommended that you should seek medical advice from your healthcare provider.

Tests And Treatment Of Right Side Stomach Pain

If you suffer with upper right abdominal pain that is difficult to diagnose, the following are the typical tests you may need to have done:
Blood Tests. These could include a Full Blood Count - FBC ( or Complete Blood Count - CBC), Electrolyte And Urea Tests, Liver Function Test, C-Reactive Protein - CRP, Erythrocyte Sedimentation Rate - ESR, Blood Sugar levels, and clotting profile tests, as well as some other specialized blood test. Your doctor will no doubt guide you as to which of these is most relevant for your condition.
Urine Test. This is important to exclude conditions like urine kidney infection or kidney stone, as the cause of the upper right abdominal pain. There will be the presence of blood in the urine at microscopic level if kidney stone is the culprit, and leucocytes and nitrites, if kidney infection is the problem and both can co-exist.

Chest X-Ray. This may become necessary, if you doctor suspects that the cause of your upper right abdominal pain is from the lungs (e.g pneumonia or blood clot), or to exclude a bowel perforation, if you also have a shoulder tip pain.

Ultrasound Scan & HIDA Scan. These are commonly requested scans needed to exclude or confirm a suspected case of gallbladder stones or gallbladder infection, kidney stone, or liver disease.

CT Scan & MRI. These may be necessary for more detail
Endoscopy & Colonoscopy.

Other Specialist Testings.
The treatment of a upper right abdominal pain will obviously depend on what is causing the pain. We have provided a link to more details on the various common causes of pain in this region of the body.

Do You Have Upper Right Abdominal Pain? Share Your Experience Here!
Do you or your loved one have a upper right stomach or abdominal pain?
When did it start? Where exactly is this pain? Does it spread any where? Is there any thing that seems to make the pain better or worse? Is there any other worries with this? What do you think might be causing this pain? Share your thoughts and experience on your right rib cage or right upper stomach pain here.
What Other Visitors Have Said Regarding Their Upper Right Side Abdominal Pain
Click below to see contributions from other visitors to this page...

Help Keep This Site Going
Donate To Show Your Support



Last Updated: 19th March 2013

Related Topics:
Return To Right Side Abdominal Pain Page From Upper Right Abdominal Pain Page