Frequent Urination And Lower Abdominal Pain Causes, Prevention & Treatment

Frequent urination and lower abdominal pain is commonly caused by cystitis or urinary tract infection, pelvic inflammatory disease and prostatitis in men. Take a look at the various causes and how they can be prevented or treated. You will be able to ask questions or make comments below too.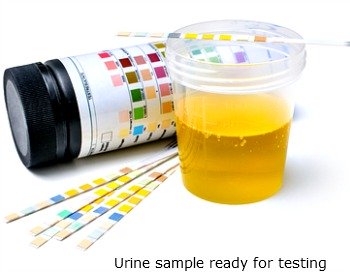 You woke up one morning and noticed that you are passing urine almost after every hour or so. There is a small burning sensation to it. As the day goes by, you develop a dull ache in your lower abdomen.
The more you dash to empty your bladder, the more it seems you need to go again. What could be wrong? Have you just been on an holiday and back? Newly wed? Or has the weather been rather hot?
Frequent urination and lower abdominal pain are the most common symptoms people who have cystitis or infection of their urinary tract (also called water works infection) have. But that is not the only cause of frequent passing or urine and stomach or abdominal pain. Let's discuss all causes of this combination of symptoms and how each of them can be identified and treated, as well as what you can do to prevent them, where possible.
Causes Of Abdominal Pain And Passing Urine Frequently
1. Cystitis

Cystitis literally means inflammation or infection of the bladder or urinary bladder.  The bladder is the sac-like organ in our lower abdomen that collects and store  urine produced by our kidneys. When  it is filled, we have the urge to pass urine.
Sometimes, bacteria find their way up into the bladder from the rectum or anus.  They could also be introduced into the bladder, following sexual intercourse. 
If you do not drink enough water to help flush the bladder, these bacteria gets more time to multiply and spread, causing infection of the bladder.
The symptoms of cystitis are:
Increased frequency of urination (that is, passing urine frequently)
There may be burning sensation in passing urine
Lower abdominal pain or abdominal pain and burning when urinating
Upper, middle or lower back to side pain if the infection is spreading upward to the kidney
Strong smelling urine
There may be blood in the urine

Feeling tired
Poor appetite
Vomiting in severe infection of the bladder or urinary tract
Women are more prone to having cystitis than men. This is because they have a very shorter urethra of about 3cm only, connecting the bladder to the outside. Pregnancy also increases the likelihood of developing cystitis. It is also very common in the elderly. 
This condition is more likely if you are:
Just coming back from holiday
Newly wedded
Frequent intercourse
Dehydrated and not drinking enough water
Cleaning yourself from the back passage forward into the vagina after opening your bowel

Diabetes
Bladder problems - incomplete bladder emptying
Low immunity and increased general susceptibility to infections
Fibroid, obstructing outflow
Multiple sclerosis
Kidney and bladder stones
Menopause

The diagnosis of cystitis or UTI is usually straightforward. From the story of frequent urination and lower abdominal pain, or stomach pain and burning urination, with any of the above symptoms, the likelihood of a urine tract infection would be apparent to your doctor.
A urine test would be required. You can take a fresh urine sample in to see your doctor or nurse. A simple urine dipstick testing would help to confirm the presences of infection.
Treatment of cystitis is usually with the use of one of the numerous cystitis antibiotics, which include:
Trimethoprim. An adult dose is 200mg Twice Daily for 7 days or
Nitrofurantoin. 50mg Three times daily for 7 days or
Cephalexin 500mg Three times daily for 5 to 7 days or

Co-amoxyclav (contains penicillin - so avoid if you have penicillin allergy). 625mg Three times daily for 5 to 7 days or
Ciprofloxacin 500mg Twice Daily for 5 to 7 days.
There are many self help and natural remedies you can observe to help treat and prevent cystitis. They include:
Drink plenty of water everyday to help flush away bad cystitis causing bacteria

Aim to use the toilet and pass urine after intercourse, if you notice that you tend to get cystitis after intercourse
Drink cranberry juice - it prevents bugs getting attached to the wall of the bladder

Cranberry plus is a supplement you can buy instead of the juice, and take 500mg daily to help fight cystitis
Take probiotics like acidophilis daily for at least two months to help balance the good bacteria in your system

Include plenty of onions and garlic in your diet - they are very good antibiotics.
If you are suffering with frequent urination and lower abdominal pain with burning sensation, you can be almost 99 percent sure that it is due to cystitis or urine tract infection.
2. Pelvic Inflammatory Disease (PID)

Another common cause of frequent urination and lower abdominal pain is PID or pelvic inflammatory disease in women. This is an infection involving the womb, tubes and potentially the fallopian tubes and tissues surrounding the womb.
It is commonly seen in sexually active women, especially in late teens to late twenties.
The symptoms of PID include:
Fever or feeling hot and cold
Lower abdominal pain
Abnormal vaginal discharge - may be foul smelling
Burning sensation on passing urine
Deep pelvic pain during sex
Feeling somehow unwell
There may be abnormal bleeding or disruption of normal menses - this may present as bleeding during or after intercourse, or heavy menstrual bleed.

Pelvic inflammatory disease is often caused by a sexually transmitted disease. It is not as common though, as cystitis. It is easily distinguished from cystitis because of the presence of abnormal vaginal discharge. You can read more on pelvic inflammatory disease here.

3. Prostatitis

Prostatitis is a condition found only in men. It is the infection of the prostate gland. The prostate gland is a chestnut shaped organ attached just under the bladder in men where seminal fluid is produced. If it becomes infected, it can cause:
Severe pelvic or lower abdominal pain in men
Pain tend to be worse on sitting on a hard surface of chair
There may be pain inside the lower abdomen with defecation
Abdominal pain and burning when urinating
Fever, chills and rigors.
Treatment is with the use of medications like

Ciprofloxacin and
Tamsulosin
Good pain killers

4. Acute Retention of Urine

Acute urinary retention is a problem frequently seen in older men with prostate problem. When the prostate becomes enlarged, it can block the outflow of urine leading to distension of the bladder and severe lower abdominal pain.
The symptoms of acute bladder blockade of acute retention of urine include:
Frequent urination and lower abdominal pain in an elderly man (or very rarely in owmen)
History of prostate problems in the past or multiple sclerosis in women
Passage of very small amount of urine despite the urge to empty the bladder
Distension of the lower abdomen
Worsening pain with passage of time
Not being able to pass urine for several hours prior to onset of pain
Treatment is by the insertion of a catheter to drain the bladder.

Other causes of frequent urination and lower abdominal pain include:
Interstitial cystitis
Sexually transmitted infections and

Overactive bladder
If you are having frequent urination and lower abdominal pain, please know it is save to be considered due to cystitis until proven otherwise. Cystitis or urinary tract infection is the most common cause of abdominal pain and frequent passing of urine with or without burning sensation.

Have A Great Story About Frequent Urination and Lower Abdominal Pain?
Do you have a great story about abdominal pain and passing urine frequently? Are you looking for answers as to why you are having these symptoms? Have any question or comment relating to this topic? Share it!
What Other Visitors Have Said
Click below to see contributions from other visitors to this page...

Pain on my lower middle abbdomen Not rated yet
Well i feel the pain mostly in the lower middle abdomen. My urinating is not steady. But a very low stream. It hurts a little. No vomiting. No …
Help Keep This Site Going
Donate To Show Your Support



Return To Home Page From Frequent Urination and Lower Abdominal Pain Page