Gallstone Diet
Best Diet For Gallstone Sufferers
What Is Gallstone Diet?
A gallstone diet is a low fat diet, rich in natural fibres, oily fish and devoid of animal fat.
It is a diet that helps prevent or reduce the development of gallstones and that can also help clear existing gallstones in your gallbladder and thus avoid gallbladder surgery in some patients.
A diet for gallstone sufferers is not helpful after the removal of the gallbladder, though it could be useful in achieve weight loss. 
Here are the best diets for gallstone sufferers and how to overcome gallbladder stones by paying attention to what goes into your stomach.

Why Gallstone Diet?
Millions of people worldwide suffer with gallstones - small pebbles formed from the bile that is stored inside our gallbladder.
The gallbladder is a small pear-shaped sac found under the liver, located in the right upper abdomen, just below the lower border of the right rib cage about a hand's breadth below the right breast.
In fact, it is estimated that 1 in 4 of us have gallstones, though only about 15% develope symptoms. 

Research shows a strong association between the consumption of high-fat diet, low-fibre foods like white rice, white bread and sugar rich meals, obesity, rapid weight loss more than 3 lbs a week, presence of diabetes mellitus, high cholesterol (inherited or diet induced), pregnancy, the female sex with the development of troublesome gallbladder stones.
Those who suffer with biliary colic are well familiar with the agonizing dull upper abdominal pain that comes on within 20 to 60 minutes after a meal.
The pain typically is located just under the right breast, severe, and could spread to the back, under the right scapular. There is usually an associated nausea, retching and sometimes vomiting with cold sweats. The sufferer tend to pace around, seeking a position of comfort. The pain would last a few minutes up to 72 hours, with periods of increased severity or exacerbation intermittently.
Gallstone pain tends to be more severe after the consumption of fried and fatty foods.
There is enough body of evidence to suggest that changing to a low fat diet, or what some has referred to as gallstone diet, may help to reduce the pain caused by gallstones.

How Fatty Foods Cause Gallbladder Pain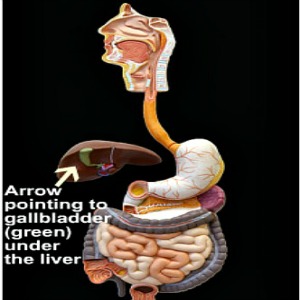 Our gallbladder stores bile - that green bitter liquid, produced by the liver that helps in emulsifying the fat in our meal. 
Bile is very important for our digestion. It helps make the fat in our food easily digestible by the fat-digesting enzymes in the gut called lipase.
Every time we eat, once the meal gets to our stomach, if it contains fat, this sends a signal to our brain to release a hormone called cholecystokinin (CCK).
Among other things, CCK causes powerful rhythmic contraction of the muscle of the gallbladder to release bile.
The more fat in the meal, the more the need for more bile to be produced from the liver and fill up the gallbladder and the stronger the contraction of the gallbladder. No wonder a very fatty meal tends to bring on gallbladder pain than a low-fat diet.
Another way a low-fat diet benefits those suffering from gallbladder disease is that food high in fat tends to lead to high blood fat levels (hyperlipidemia), which is a recognized risk factor for gallstone production.
When the gallbladder is filled up with gallstones, one is more likely to suffer from gallstone problems. A low-fat diet, on the other hand, helps reduce the formation of gallstones, no wonder they are called gallstone diet. 

What To Include And Avoid In A Diet For Gallstone Sufferers
A low-fat diet is defined as a diet containing and supplying no more than 30 to 40grams of fat per day. A diet containing 50 - 60g per day is a moderate fat diet, and greater than this is a high fat diet.
A low fat diet should not be confused with fat-free diet. You need to have some fat in your meal to be healthy.
Fat is needed for proper absorption of essential fat soluble vitamins like vitamins A, E, K and some B-complex vitamins. Fat is also required for the provision of molecules that are required for the proper functioning of numerous body enzymes. 

It is also important that when on a low-fat diet or gallstone diet, you continue to enjoy a varied and healthy meal, consisting of fresh fruits and vegetables, carbohydrate rich foods with low glycaemic index. Specifically, a typical healthy low-fat diet would be made up of any of these or a combination:

Main Meals

Wholemeal bread
Wholemeal paster
Potatoes
Yam
Plantain - green or ripe plantain grilled or boiled
Cassava and cassava derivatives
Maize and corn meals and flours
Cocoyam and cocoyam flour
Brown cereals like brown rice, millet, shorgrum
Boiled beans
Baked beans
Avoid oily legums and seeds as main main meal

Vegetables

All fresh fruits and vegetables
Tined or dried fruits
Avoid nuts

Meat & Fish

Chicken and Turkey with their skin fully removed
Lamb, goat, beef and any Red meat with any visible fat removed
White fish, like code, haddock and stockfish
Tuna, salmon and shellfish okay and all the above grilled or boiled rather than fried
Avoid oily fish like sardines, tuna in oil, mackerel, sausages, and meat with its fat

Desserts

Low fat yogurts
Low fat ice creams
Low fat puddings
Fruit jelly
Avoid whole or full milk puddings, ice creams, fruit crumbles

Cooking Oils

Low-fat spreads
Fry light extra virgin olive oil spray
Benecol light
Anchor half fat
Flora diet
Avoid traditional cooking oils like corn oil, olive oil, sunflower oil, and traditional vegetable oils

Cooking Methods

Boil
Grill
Poach
Or eat fresh where possible
Avoid frying!
Gallstone Diet: 7 Things You Must Know
Before starting on a low fat diet for gallbladder problems, it is important to be aware of the following:
A low-fat gallstone diet is only necessary IF you notice that fatty food brings on your pain or makes your gallbladder pain worse
Such low-fat diet or gallbladder diet may be necessary during an acute attack of cholecystitis or biliary colic and for 3 to 5 days following an attack or immediately after gallbladder surgery but not weeks after your gallbladder has been removed
After an operation to remove the gallbladder, a lifelong low-fat diet is not necessary
A low fat diet can lead to significant weight loss. Should you notice that you are losing more than 2lbs or 1kg per week in weight, you need to increase your diet to a moderate fat diet to avoid the formation of new stones
Fat is important in your diet. You need 50 to 60 g/day of fat in your meal to help stimulate and move bile bile from your gallbladder
If you have chronic cholecystitis, a moderate fat diet may be more beneficial for you 
Please discuss with your doctor and dietician before embarking on a gallbladder diet. 
What Is Your Experience With Foods And Gallstones?
Do you suffer with gallstones? What types of foods seem to cause you more symptoms?

Are you on a dietitian recommended gallstone diet? What does it include?

Share your experience below.
What Other Visitors Have Said
Click below to see contributions from other visitors to this page...