Abdominal Pain In Children

Common Causes, Diagnosis & Treatment
Abdominal pain in children can be caused by medical, surgical, emotional and psychological issues. Common causes of tummy pain in children of all ages include abdominal infections, trapped wind or colic, twisted bowel, food intolerance, urine infection, constipation, cold or flu virus infections and many more.
While it is true that most cases of abdominal pain in a child may be due to a minor illness like viral illness or trapped wind, complaints of pain in the abdomen in any child should be taken seriously by both parents and doctors.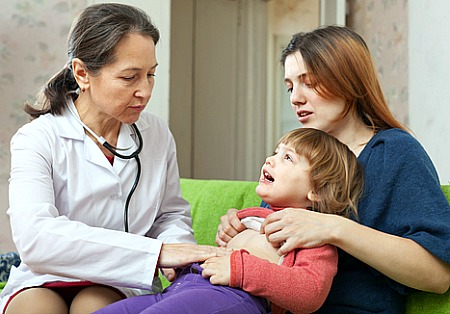 Abdominal pain in a child can be caused by any one of more than 90 known causes of tummy ache.The focus should not always be to identify exactly what might be causing the pain.
It should rather be to exclude the presence of potentially dangerous causes of abdominal pain in that age group and promptly  administer treatment as required. It is only in about 1 out of every 10 child seen with abdominal pain that the exact causes would be identified. This is squarely because children find it difficult to localize pain, and explain themselves as much as an adult would.
Let's take a look at the more common causes of abdominal pain in children, how to assess them, signs to look out for, tests that might be needed and initial treatment options.

Common Causes of "Stomach Ache"

Before we list the common causes of stomach ache in children, the following are points to consider:

The common causes of abdominal pain in children are age related. Children under 5 are not likely to suffer with ovarian cyst for example, just as a 10 year old is not likely to suffer with abdominal colic and reflux like that seen in a 3 month old baby.

Psychological or emotional disturbances play a huge role in many complaint of abdominal pain; everyone though, especially doctors must be careful not to ascribe any pain as psychological, until other common causes of pain has been excluded by means of a careful examination and tests as deemed necessary.
Abdominal pain in a child can be classified as acute, if it has been going on for less than 7 days, and chronic if it has been going on for more than 7 days
It is more likely that a cause of abdominal pain would be found in an acute abdominal pain than in chronic pain

The following are the most common causes of abdominal pain in the respective age groups shown below.

Abdominal Pain In Babies 0 to 3 Months

Abdominal pain in this age group is difficult to be sure of. You may be worried that your son or daughter might be having abdominal pain in this age group if he or she is:
Wriggling and twisting the center of the body or abdomen during or after feeding
Crying and perhaps vomiting
Abdomen seems bloated or distended
Cries or grunts with arching of the back
Grunts and wriggles, with both legs lifted upwards
If you suspect that your baby is having abdominal pain, well, do not doubt your instincts. It is better you are being over cautious than miss a real problem. Seek help from an experienced healthcare adviser. A quick examination may be all that is needed to exclude an abdominal pain.
The common causes of abdominal pain in new born babies up to the age of 3 months are:

1.
Trapped Wind, Gas Or Aerophagia
We all swallow air when talking or crying. Babies are even more prone to do so, when sucking. They such in air with their feeds. They may gulp in a sizable amount of air that creates a column of air in their tinny intestinal tube or lumen. Because the lumen of their bowels are so small compared with older children or adults, the swallowed air causes distension of the intestinal wall, leading to abdominal pain.
Bottle feed infants are more likely to suffer with this than breast feed babies.

Signs of aerophagia or intestinal gas in newborn babies and older children include:
Wriggling and twisting during or after feeds
Burping a lot
Abdomen looks fuller or distended compared to the amount of feeds that has been taken
Passing plenty of flatus
What You Can Do:
Using the appropriate feeding bottle teat will help to prevent or reduce the incidence of aerophagia. Do not increase the size of the teat yourself. 
Ensure you "wind" your baby thoroughly after each feed. You can do this by positioning your baby in the erect position on your shoulder, with its belly resting on your shoulder, and then gently stroke its back down until you hear a couple of burping sounds with release of wind
If the above steps does not help, and if your child still seems to be in pain, seek medical help.

Is Your Child Experiencing Unexplained Abdominal Pain? Share The Pain. Post It Here!
A few things in life could be more distressing than for a parent to watch their own child suffering in pain. Does that sound like what is happening to you? Is your daughter or son suffering with abdominal pain? Have you been back and forward to the doctors for help without success? Whatever it is, why not share your story here and perhaps get responses from parents like you who might have gone through similar ordeal? You may be surprised to know how others found help and got their "little Angel" well again. Share the pain here.
What Other Visitors Have Said
Click below to see contributions from other visitors to this page...

Help Keep This Site Going
Donate To Show Your Support