Cholestasis of Pregnancy

Cholestasis of pregnancy is defined as a condition where bile flow out of the liver is inhibited, leading to  extreme itching during pregnancy, usually after the 20th week of pregnancy, without an associated skin rash but with the elevation of liver enzymes, and bile acids in the blood with or without jaundice.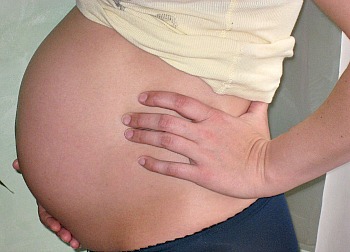 Cholestasis of pregnancy is a cause of extreme itching during pregnancy
Are you pregnant and experiencing severe itching all over your body, that is worse on your palms and sole of your feet, yet with no obvious rash or hives? Is the itching waking you up at night?

Do you have associated pain or discomfort in your upper abdomen?

You may be suffering with what is referred to as cholestasis in pregnancy.

Also called intrahepatic cholestasis of pregnancy (ICP), this condition thought to be due to sensitivity of the liver and bile duct cells to estrogen, leads to clogging of the bile ducts that drain bile from the liver, which in turn results in the abnormal accumulation of excessive bile acids in the blood and this causes skin irritation and  severe itching in the expectant mother.
It could also cause sudden death of the unborn child if the condition is not treated in time or if the baby is not delivered as soon as it is safe to do so.


If you are suffering with severe body itching during pregnancy, it is important you see your doctor to be tested for the possibility of cholestasis because:

Cholestasis of pregnancy is associated with a very increased risk of miscarriage or even sudden death of the baby inside the womb
Could cause sleep deprivation to the mother, with the associated risks of not having enough sleep like increased day time irritability, accident proneness and other illnesses.
Causes of Cholestasis of Pregnancy
Cholestasis of pregnancy is a fairly common condition in pregnant women.
About 1 to 2 out of every 200 expectant mothers would suffer with this condition. It can occur in any one but tends to be more common in women of Asian and Latino extraction.

It tends to be more common in twin pregnancy than in singleton.
Studies have shown that the cause of Cholestasis in pregnancy are multi-factorial.  It is believed to be caused by:

Genetic predisposition of the liver cells and bile duct to be sensitive to the level of estrogen and progesterone seen in the second and third trimester of pregnancy
A disorder of special proteins that transport bile acids (biliary transporters) in the liver
Use of progesterone to treat women with genetic predisposition to cholestasis when they are pregnant to prevent miscarriage
Unidentified environmental factors
Opioid medications use like Oxycodone or morphine derivatives can lead to cholestasis in those who are predisposed, as could medications like Largatil or chlorpromazine.
Symptoms of Cholestasis of Pregnancy

The symptoms of Cholestasis in pregnancy include:

Extreme itching during pregnancy – could be all over your body but worse in the limbs and under the feet and palms
Symptoms usually start in the second trimester, anywhere after the 20th week of pregnancy and more commonly in the third trimester
Itching is worse at night
Also itching tends to be worse with passage of time during the pregnancy

There may be associated yellowness of the white part of the eye – referred to as jaundice. Jaundice is indeed not common as it occurs in less than 10 out of every 100 women with intrahepatic cholestasis
Associated feelings of being unwell, tired and with decreasing appetite
Upper central abdominal pain or discomfort
There could be easy bruising of the skin of the mother, if the condition continues to worsen.
How Is This Condition Diagnosed?
Cholestasis is usually diagnosed from the history of itching in pregnancy after the 20th week coupled with the absence of skin rash and a positive blood test result showing abnormal liver enzyme test.

Itching usually precedes the development of abnormal liver enzymes by at least 2 weeks; so even if the liver function test done comes back normal, this does not exclude the diagnosis of cholestasis. The test should be repeated every one or two weeks.

Blood works to be done include:

Complete Blood Count  or CBC (also called FBC or Full Blood Count)
Liver function test (LFT, including AST, ALP, GGT, Albumin, Bilirubin)
Bile acid levels – this is a special test that may not be easily available in many laboratories, but really worth doing if possible
Clotting screen, especially if there is associated bruising in the patient or if the platelet levels come back to be below 100 – this is referred to as cholestasis and thrombocytopenia in pregnancy
Auto-immune antibodies, including Anti-Smooth Muscle antibody and Anti-mitochondrial antibody
Full hepatic virology screening – for hepatitis A, B, C, including Epstein Barr Virus. These are done to exclude other possible causes of abnormal liver function test to be sure nothing else might be causing these symptoms.
Liver Ultrasound Scan is often done to assess the patient for the presence of other liver disease or perhaps pre-existing liver cirrhosis for example.

Very rarely, there may be need to do a liver biopsy. This involve the use of very fine needle to take a piece of sample of liver cells through the wall of your abdomen. This sample is then looked at under the microscope to see if there is any change in the cell structure or architecture of the tissue.
Treatment of Cholestasis of Pregnancy
The treatment of cholestasis in pregnancy involve the close monitoring of fetus to ensure the safe progress of the pregnancy as well as managing the symptoms of cholestasis and minimizing the effect on the mother and fetus.
The treatment modalities commonly employed include:

Use of Ursodeoxycholic acid (UDCA) at a dose of about 8 to 12mg of this medication per maternal Kg. This is to help improve the extreme itching as well as improve the liver function in these women. UDCA is proving very promising. It acts by increasing the flow of bile acids in the bile ducts and their clearance from the blood.
Supportive treatment like encouraging plenty of fluid intake

Use of antihistamines like Hydroxyzine or Piriton (chlorpheniramine) tablets to control itching
Administration of vitamin K injections once diagnosis is made and certainly to all pregnant women with cholestasis 32 weeks or more
If the liver enzymes and itching continues to worsen despite use of UDCA, other medications like Dexamethasone and Rifampicin or even Cholestyramine is used
Delivery of the fetus at 37 weeks is often advised because the fetus could die suddenly and there is no way of determining when this may happen – not even determinable by the severity of the blood test results or a reduction in fetal movement monitored on CTG (cardio-toco-gram - intrauterine baby movement monitor). So if you have cholestasis in pregnancy, do not be surprised if your OBGYN doctor advises that you should get induction of labor or even a cesarean section done any time after your 37th completed week of pregnancy.

Natural remedies for reducing the extreme itching associated with cholestasis include use of:

Cold flannels or towels, cold water bottles, cold showers etc to help bring down the body temperature, It is believed that the worsening of the itching of cholestasis at night time is related to body temperature rising when covered under the duvet or comforters.
Use of Calamine lotion all over the body
Care of The Mother and Baby After Delivery
Cholestasis and its associated symptoms usually resolve within a few days to weeks after delivery of the baby.
The following care points are important after delivery:

Baby should have vitamin K administered
Mother should be followed up with blood works – liver function test done within the 6th and 8th week after delivery
Mother should be informed that there is a greater than 60 to 70 % chances of her having cholestasis in her subsequent pregnancies and her doctors should be made aware of this condition (in case she changes doctors) as soon as possible in subsequent pregnancies
It is strongly advised that any woman who has suffered with cholestasis in pregnancy should avoid the use of the combined contraceptive pill (COC also referred to as estrogen containing birth pills). This is because this type of pills could cause cholestasis for the mother even outside pregnancy
The "mini pill" or progesterone-only pill is okay to be used in someone who has had cholestasis of pregnancy
Mother with cholestasis can breast feed her baby as normal and it is not an issue with breastfeeding.
Cholestasis of Pregnancy ICD 9 and ICD 10 Codes
For billing and insurance purposes, the ICD 9 code for cholestasis of pregnancy is 646.73. This comes up as "liver disorder antepartum". You can also enter 646.7 which comes up as "liver disorder in pregnancy".
The ICD 10 code for this condition is K83.1.

References:

Royal College of Obstetrics and Gynaecology (RCOG), 'Obstetric Cholestasis', Green-top Guideline No.43 May2011.

obstetric Cholestasis. Oxford Handbook of Obstetrics and Gynaecology. Second Edition 2011. Collins, Arulkumaran, Hayes, Jackson and Impey. Oxford University Press. Page 210.



Published on October 10th 2015 by Abdopain.com Editorial Team under Causes of Abdominal Pain in Pregnancy.
Article was last reviewed on 18th October 2015.

Abdominal Pain in Pregnancy - Questions & Comments
Do you have a query, or experience on abdominal pain in pregnancy? Share it!