Appendicitis In Pregnancy

Symptoms of appendicitis in pregnancy include pain on the right lower or right upper abdomen, feeling unwell, nauseated than usual, plus or minus vomiting. If you have a combination of these signs and you have not had your appendix removed, it would be reasonable to seek medical help to exclude this condition. See other symptoms, tests to help in the diagnosis of appendicitis when pregnant as well as best treatment options available.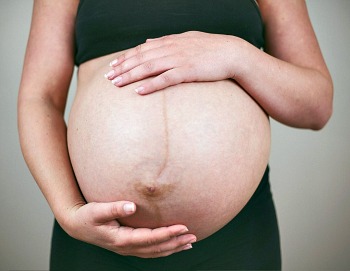 Pregnant woman
Appendicitis is the most common reason for emergency surgery in pregnancy (1).
About 1 out of every 800 pregnant women would have an episode of acute appendicitis in pregnancy.  Yet, this condition is not the easiest to diagnose, more out of reluctance to make such a diagnosis because of the surgical implication, than is because of the fleeting symptoms.
True, because of the changes in a woman's body during pregnancy, the picture of acute appendicitis may become distorted. It is very important though that if there is the slightest suspicion that the symptoms being presented are likely due to appendicitis, that the woman be thoroughly investigated for this. 
Equally, there should be no delay in operating to remove the diseased appendix due to the potential for maternal death and fetal loss, should nothing be done or if treatment is instituted later than sooner.
It is reported that:
4 to 10 out of every 100 pregnant women with a late diagnosis and perforation of their appendix end up dying from this condition.

30 to 60 out of every 100 pregnant women with delay in the diagnosis of their appendicitis end up having a miscarriage and losing their baby!
Up to 60 percent of pregnant women with appendicitis end up with perforation due to delay in diagnosis.
Those are grim statistics. Aren't they?
So what is the problem and why the delay and difficulty with diagnosis of appendicitis during pregnancy?
The main problems are:
Though the same pattern of pain as in the non-pregnant women is what is experienced by the pregnant women with acute appendicitis, in later pregnancy, the rising uterus could displace the appendix so that the pain is felt in the right upper abdomen rather than the right lower abdomen, thus confusing the picture.
The abdominal pain may be thought to be due to false labour or Braxton Hicks contractions

Nausea and vomiting are normal symptoms experienced in pregnancy. So a pregnant woman complaining of nausea or and vomiting is often mistaken for those due to pregnancy.
The laboratory findings of elevated white blood cells in acute appendicitis occurs in normal pregnancy.

As mentioned above, even when the picture is sufficiently clear and points to the diagnosis of appendicitis, there is often a reluctance on the part of some doctors and indeed some patients too, to undergo surgery, leading to delay and unpleasant complications.

So, what are the symptoms of appendicitis in pregnancy?

Symptoms of Appendicitis In Pregnancy

In The First Trimester (1st to 12th Weeks of Pregnancy)

The symptoms of appendicitis in the first trimester of pregnancy is basically the same as in the non-pregnant woman. The symptoms include:
Vague dull pain in the upper abdomen or around the navel or umbilicus for a few hours or days that then moves to the right lower abdomen
The pain becomes worsened by movement, coughing or laughing

Associated loss of appetite - you may discover that in the last few days you are not keen on eating and may not have had breakfast today without feeling the need to
As pain worsens, you may start to feel unwell and tired
Associated constipation or episodes of loose stools
You may actually vomit a few times
Fever. Not every body experiences fever
All these symptoms happen pretty rapidly, often within a span of 3 to 7 days.
If nothing is done, symptoms may just continue to worsen and the risks of complications multiplies exponentially as the day passes by.

In The Second And Third Trimester (13th to 40th Weeks of Pregnancy)

The symptoms of appendicitis in pregnancy in the 2nd and 3rd trimester of pregnancy is essentially same as in the first trimester, except that because of the rising uterus, the pain is located in the middle or upper right abdomen.
How Is Appendicitis Diagnosed During Pregnancy?

The diagnosis of appendicitis during pregnancy follows the same pattern as outside pregnancy. The following would need doing:
Blood works. A complete blood count would show elevated white blood cells. In severe cases, it would be more elevated than what is often seen in normal pregnancy - usually, the WBC count is less than 20,000 in normal pregnancy
Urine test. Frequently, urinary tract infection which is also common in pregnancy could actually occur alone or in co-existence with appendicitis in pregnancy. 
Ultrasound scan. This is usually the preferred imaging option in pregnancy because it is easily available and quick to perform with zero radiation. If the findings are supportive of appendicitis, then there would be no need for further imaging.
MRI. Magnetic Resonance Imaging is rapidly gaining ground as the preferred imaging where there is still uncertainty as to diagnosis of a woman right lower or upper abdominal pain. Unlike a CT scan, it has no radiation and is thus safe in pregnancy.

Treatment of Appendicitis In The Pregnant Woman: To Operate or Not?

The treatment of choice in any case of acute appendicitis and certainly during pregnancy is to proceed to remove the diseased appendix surgically.


The current believe is that it is better for a normal appendix to be removed during an operation for suspected appendicitis in pregnancy than to allow complications occur because of not operating.

It is considered acceptable, that more than one in three (up to 35%) expectant mothers who undergo surgical operation for appendicitis may turn out to have a normal appendix. Why this figure is quite high compared to what is acceptable in the normal population (15% in the non-pregnant population), the grave consequences of delayed surgery is not an option (Mostafa et al 2006).


The most popular study done in this regard was by Horowitz and his colleagues. They reported an unfortunate outcome which occurred due to delays in surgical intervention once the diagnosis of appendicitis in pregnancy in 12 women was made.
Surgery was delayed in 7 of these pregnant women with appendicitis for 24 hours.
The result: 6 of the 7 women developed ruptured appendix within just 24 hours, leading to the death of two of the babies, the death of one of the mothers, and one premature delivery!

What a tragic loss of 3 lives from unnecessary delay in operating a pregnant woman with appendicitis (Horowitz et al, 1985 - see the reference quoted below for full details).

Outcome is usually good where perforation has not occurred. Some women could go into premature labour.

To buttress this fact, is a study conducted by S. Mahmoodian in 1992. He reviewed 713 women in whom a diagnosis of appendicitis during pregnancy was made. A quarter of these patients had ruptured appendicitis. 5 of the mothers died as a result of the ruptured appendicitis.


With surgery, he demonstrated that there is about 20 in 100 chance of death during operation in a woman with perforated or ruptured appendicitis in pregnancy, compared with only 4 in a 100 chances of death in non-perforated or non-ruptured appendicitis in pregnancy.

The verdict: prompt surgical operation in women suspected to have appendicitis during pregnancy is key to saving both mother and baby.

With dramatic improvements in medical technology over the last 10 years, surgical operations are even much more safer in both groups, especially with laparoscopic or keyhole surgery.

Where pregnancy is still at the early stage, some have given progesterone or isoxuprine to protect and preserve the pregnancy.

There should be minimal handling of the uterus during the operation.

So, if you are pregnant and have signs and symptoms of appendicitis, go to your doctor immediately who would attempt to verify if you are having appendicitis in pregnancy.

Once confirmed, having an operation to remove the diseased appendix is a wise thing to do if that is what your doctor also advises.

References:
Oxford Handbook of Obstetrics and Gynaecology. 2nd Edition. by Collins, Arulkumaran, Hayes, Jacson and Impey. Oxford University Press. 2011. Page 92.

MRCS System Modules: Essential Revision Notes. Edited By C Parchment Smith, C Hernon. Page 376.
Horowitz MD, Gomez GA, Santiesteban R, Burkett G. Acute appendicitis during pregnancy. Arch Surg. 1985 Dec;120(12):1362–1367.
Mahmoodian S. Appendicitis complicating pregnancy.South Med J. 1992 Jan;85(1):19-24.
Review of Surgery: Basic Science and Clinical Topics for ABSITE By Gamal Mostafa, Lamont Cathey, Frederick L. Greene. Edition: illustrated. Published by Springer, 2006. ISBN 038729080X, 9780387290805. Page 398.
Published on the 21st of June 2005 by Abdopain.com Editorial Team under causes of lower right sided abdominal pain.
Article was last reviewed on 12th October 2015.
Appendicitis Stories - Have Your Say!
Are you suffering with a right sided abdominal pain? Do you suspect that this might be due to appendicitis? Or have you had your appendix removed? What was your experience like? Share your appendicitis stories here. We would really love to hear from you!
Related: