Abdominal Adhesion

A Common Cause Of Chronic Abdominal Pain
What Is Abdominal Adhesion And Who Gets It?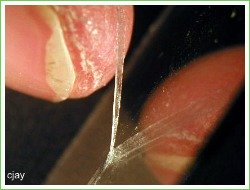 Abdominal adhesions are fibrous bands or thread-like scar materials formed in the abdomen following healing after a surgical operation in the abdomen, or abdominal trauma, bleeding, infection or endometriosis.
Adhesions are like scars that occur after a wound heals on the skin, but they then become drawn out like cords which can wrap around things around them. They are sometimes called internal scars. Some have well described these bands like strong spider webs formed in the abdomen or pelvis. Like spider webs, they are very sticky, and may cause tissues or organs to stick to one another in the space in which there are formed.

They notoriously make tissues and internal organs like the bowels or intestines to stick to one another or to the surface of the abdominal wall or pelvis, often leading to abdominal pain of varying degree or other complications like chronic (long lasting) abdominal or pelvic pain, infertility, problems with voiding of urine, and intestinal obstruction.
The journal, Obstetrics And Gynaecology International, in it's January 2012 issue, under the heading "New and Simple Approach for Preventing Postoperative Peritoneal Adhesions: Do not Touch the Peritoneum without Viscous Liquid—A Multivariate Analysis", describes abdominal adhesions after surgery as "the most common causes of intestinal obstruction, infertility, and abdominal and pelvic pain" as well as a cause of great economic loss to sufferers, their families and the community.
How Common Are Abdominal Adhesions?

It is estimated that more than three quarter (75% to 93%) of patients who undergo abdominal surgery (more commonly, after appendectomy or gynecological operations like hysterectomy or cesarean section), and up to 100 percent of those undergoing major pelvic surgery, develop abdominal adhesion. These adhesions following surgery are also referred to as postoperative peritoneal adhesions (PPAs).

An abdominal Adhesion may be present from birth in a few cases (congenital) or following a non-invasive procedure like radiotherapy.
Adhesion occurring after a surgical operation or internal injury are formed as part of the normal healing process, but their production and clearance could become defective due to the extent of injury, level or extent of tissue handling during the operation, genetic predisposition to adhesion formation, age, infection of the operated site, and a host of other factors.
Common Conditions Associated With Adhesions

If you have had any of the following conditions or operations, your are more likely to suffer with abdominal or pelvic adhesions:

Operation for Appendicitis, especially if there was pus in the abdominal cavity during the operation or if it was a ruptured appendicitis
Adhesions after Hysterectomy
Cesarean Section (c-section adhesion)
Cholecystectomy (removal of the gall bladder)
Symptoms Of Abdominal Adhesion

It is not every one with adhesions that become symptomatic. Only about a third of people with adhesion do eventually develop symptoms. Abdominal or pelvic adhesions are usually not formed until about 4 to 6 weeks after surgery or an overwhelming infection or trauma, and may take even years before symptoms are noticed.
The following are the common symptoms of abdominal adhesions:
Abdominal Pain - Even though abdominal pain is the most common symptom of abdominal adhesion, in the past, some experts thought that abdominal adhesion does not cause pain. That view, thankfully, has changed. In a recent study, abdominal or pelvic adhesion were found at laparoscopy in over 25% of women who have been suffering with chronic pelvic pain, compared to the finding of adhesions in only about 10% of women without chronic abdominal or pelvic pain. It has also been demonstrated that these abdominal adhesion tissues, with time, develop and have their own nerve fibres running along them, along with their own blood vessels. It makes perfect sense that if they are stretched by bowel movement or other factors inside the abdominal cavity, they will cause sharp abdominal pain intermittently. Is that what you feel inside you sometimes? For some, it may cause a dragging pain in pelvis.
Bowel Or Intestinal Obstruction -"Adhesive small bowel obstruction is a frequent cause of hospital admission", reports the medical journal, Frontiers of medicine, 02 October 2012, 2095-0225. In that article, it reported about a 58 year old man who had developed repeated bowel obstruction from abdominal adhesions, requiring two major abdominal surgery to relieved the problem. Only after having treatment with "hyperosmolar water soluble contrast medium, multiple surgical procedures, total parenteral nutrition (TPN) support, and finally use of anti-adherences icodextrin solution", the journal continues, did he become free of this very troublesome abdominal adhesions. True, like spider webs inside the abdominal cavity, adhesions can trap our normally constantly moving bowels, wrap round a loop of the bowel, block it's lumen from outside, leading to colicky abdominal pain for days, nausea, feeling of been bloated, vomiting and inability to go to the lo (open one's bowel). If you have had a major operation in your abdomen recently or in the last few months or years and have any of the above symptoms, it could be due to adhesions. See your doctor. Sometimes, the bowel is able to "free" itself from the wrap of the adhesions and the above symptoms of colicky abdominal pain, feelings of being bloated and constipation may resolve on their own, before becoming severe to cause intestinal obstruction.
Infertility - If you have had a major abdominal operation in the past, or suffer with endometrosis, or known to have had an abdominal or pelvic infection like PID, or salpingitis or peritonitis, and finding it difficult to conceive, it could be due to abdominal adhesion. It is thought that these spider web-like cords could affect the architecture of the abdomen, interfering with the release of eggs from the ovary or the migration of a fertilized ovum into the fallopian tubes and womb (uterine adhesions).

Treatment For Adhesions

The best available treatment for abdominal adhesion currently is by breaking and removing some of the adhesions by keyhole surgery or laparoscopy, in a procedure referred to as adhesiolysis or adhesion removal surgery. In the hands of very experienced adhesion surgeon, many patients report significant improvement in their symptoms as well as a very low incidence of recurrence.
The dark side to re-operating to remove adhesions is that the more you have surgery for adhesions, the more likely you will need even more surgery for adhesions in the future. The older you are before the first adhesion, the more likely you will need more surgery. For some patients, they have had to do need adhesiolysis every two years.
What is now currently practiced amongst top adhesiolysis surgeons is to, before going for an operation to free an adhesion, is to inject the abdominal cavity with liquids containing carboxymethylcellulose (CMC) and hyaluronic acid or other more agents like icodextrin that help to prevent recurrence of adhesions.
A recent study indicates that the use of fish oil supplementation may help as "an effective adjuvant therapy to reduce the development of postsurgical adhesions related to endometriosis." - The medical journal, Fertility and sterility, 25 October 2012, 1556-5653. Whether this finding observed in an hybrid of women and mice study will be truly representative of results obtainable if fish oil supplementation were used in those with abdominal adhesion on a long term basis, only time will tell.

Prevention Of Adhesions After Surgery

Unless you have congenital adhesions (existing from birth), the formation of adhesions can be minimized or prevented by taking certain measures before, during and after a surgical operation. These measures can apply whether you are having your very first bowel or gynecological surgery or c-section, or if you are going in for a repeat adhesion surgery.
Steps to prevent adhesions after surgery include:

 

Pre-emptively assess the likelihood of adhesion in a procedure and take steps to reduce its occurrence

Opt for laparoscopic surgery where possible rather than open abdominal or pelvic surgery

Avoid the use of starch or talc containing surgical operating gloves

Avoid use of mesh intra-abdominally, if possible.

Careful surgery with reduced bowel handling
Use of carboxymethylcellulose (CMC) and hyaluronic acid intra-operatively inside the abdominal cavity to create viscosity
Intra-operative use of antibiotics
Prevent bleeding into the bowel, or loss of blood supply for any extended length of time.

If you are about to go in for surgery and you are afraid of developing abdominal adhesion or a recurrence of adhesions, do not be afraid to discuss with your doctor, steps he is taking minimize the formation or reformation of adhesions.
Have you suffered with adhesions, or think you might be suffering with a chronic abdominal pain due to adhesions, we would love to hear your thoughts.

References:

Shichao Jiang,  Wei Wang,  Hede Yan, and Cunyi Fan.  Prevention of Intra-Abdominal Adhesion by Bi-Layer Electrospun Membrane. Int J Mol Sci. 2013 June; 14(6): 11861–11870. Published online 2013 June 4. doi:  10.3390/ijms140611861
Herington JL,Glore DR,Lucas JA,Osteen KG,Bruner-Tran KL. Dietary fish oil supplementation inhibits formation of endometriosis-associated adhesions in a chimeric mouse model. Fertility and sterility, 25 October 2012, 1556-5653
Erhan Aysan et al. New and Simple Approach for Preventing Postoperative Peritoneal Adhesions: Do not Touch the Peritoneum without Viscous Liquid—A Multivariate Analysis. Obstet Gynecol Int. 2012; 2012: 368924. Published online 2012 January 26. doi: 10.1155/2012/368924
Liakakos T et al. Peritoneal adhesions: etiology, pathophysiology, and clinical significance. Recent advances in prevention and management. Dig Surg. 2001; 18(4):260-73.

Pelvic Pain: Diagnosis and Management. By Fred M. Howard, Paul Perry, James Carter, Ahmed M. El-Minawi (2000).

Holmdahl L, et al. Adhesions: pathogenesis and prevention-panel discussion and summary.Eur J Surg Suppl. 1997 ;(577):56-62.
Risberg B. Adhesions: preventive strategies.Eur J Surg Suppl. 1997 ;(577):32-9.
Matter I, et al. (1997) Does the index operation influence the course and outcome of adhesive intestinal obstruction?Eur J Surg 163(10): 767–72
Monk BJ et al. Adhesions after extensive gynecologic surgery: clinical significance, etiology, and prevention. Am J Obstet Gynecol. 1994 May; 170(5 Pt 1):1396-403.
Abdominal Adhesions - Share Your Experience
Do you have a story about abdominal adhesions? Any question or comment? Share it!

Please feel free to contribute your thoughts here if you read postings by others, and you want to say something.

All postings are read by the abdominal pain team, and we shall respond to some queries directly on this page too.


What Other Visitors Have Said RegardingTheir Experience With Abdominal Adhesion
Click below to see contributions from other visitors to this page...

Help Keep This Site Going
Donate To Show Your Support



Related: 
Return To What Is Abdominal Pain Page From Abdominal Adhesion Page